What is an appointment booking service?
Appointment Scheduling is a service in which your virtual receptionists book appointments with you on your clients' behalf and vice-versa.
Many industries rely on appointments to drive sales. Leads will often want more information or require additional discussion before choosing a service.
Appointments are particularly valuable to industries with high-value services or products, including real estate, finance and legal.
At AnswerConnect, we use Setmore to book all our appointments.*
And as luck would have it, every AnswerConnect account comes with free access to the Premium Setmore plan.
*We can, however, integrate with and use your preferred booking system.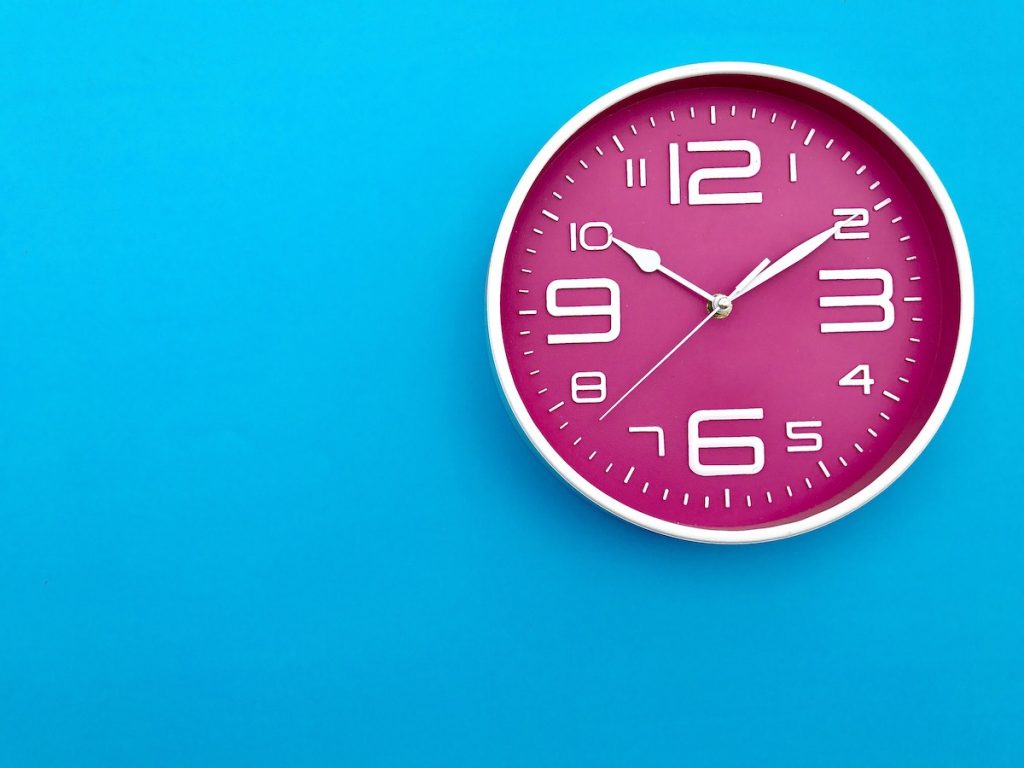 What is Setmore?
Setmore is a 24/7 appointment booking platform. It's also part of the AnywhereWorks brand family (of which AnswerConnect are also a part).
Setmore comes with a suite of scheduling features, including:
Email and text appointment reminders
Live chat website widget
Direct Payments
Recurring Appointments
Auto-sync with your existing calendar
Integrations for video-calling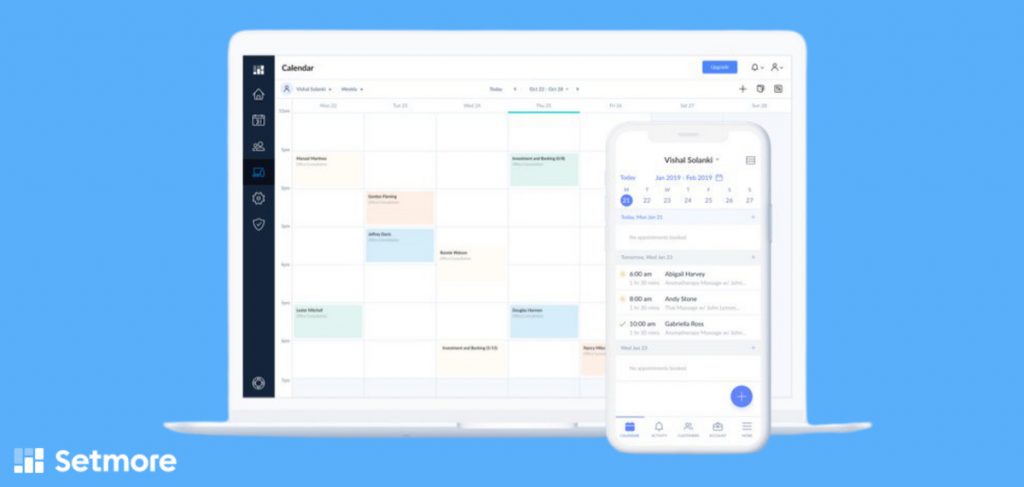 How to get Setmore
You can request free access to Setmore Premium when you sign up to AnswerConnect. You can start taking bookings as soon as your account is live, however, we suggest you edit and customise your Setmore account first.
To access your Setmore account:
Log in to/open your AnswerConnect Portal.
Go to Settings
Select Scheduling
Click Launch App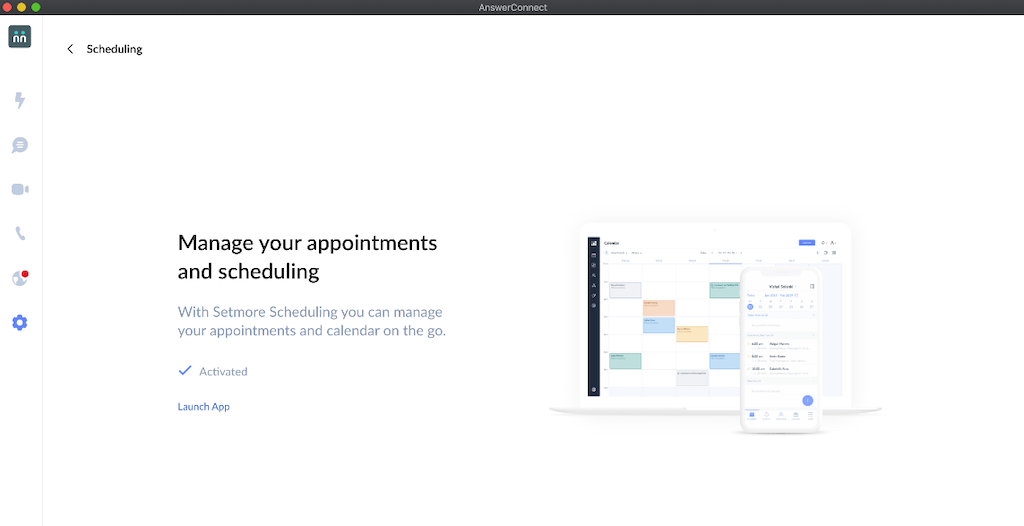 How to view and change appointments
To view your appointments through Setmore:
Either
Visit your Setmore account via the steps detailed above in "How to get Setmore"
From here, you can manage all your appointments.
or
If you've chosen to integrate Setmore with your existing calendar, you'll be able to view and change appointments directly through your own calendar system.
So if you've synced your calendar with Google Calendar, any appointments booked in Setmore will appear in your Google Calendar and vice versa. Any changes to an appointment will be updated simultaneously across both booking platforms.
However, you're currently unable to edit a Google event from the Setmore calendar.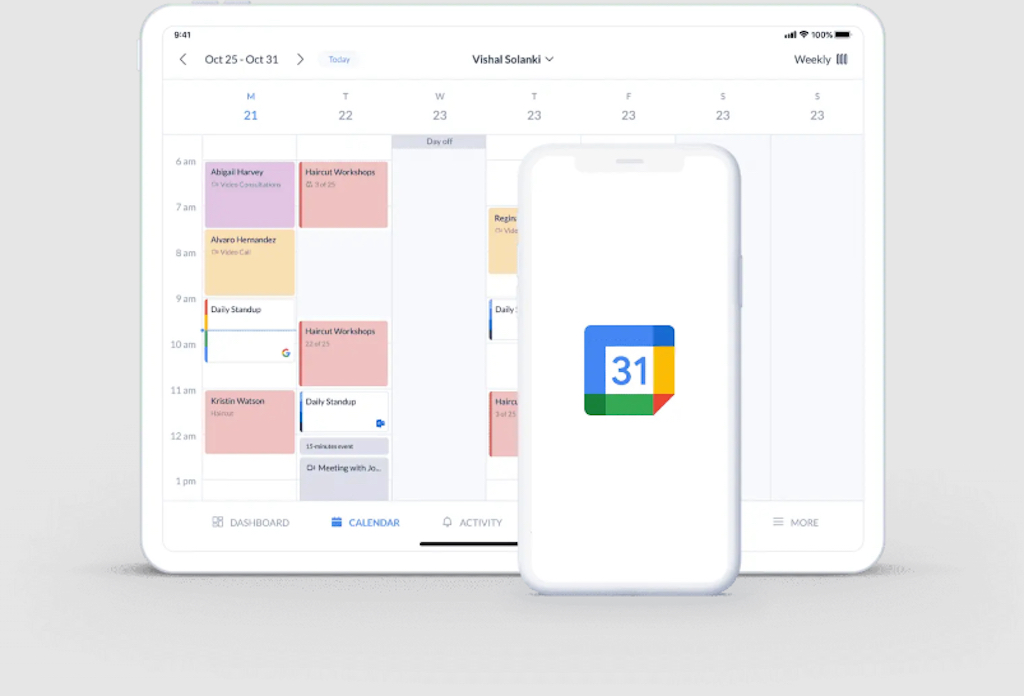 How to integrate with your current calendar
Most businesses already have an appointment scheduling process in place. In the majority of cases, companies will use a shared platform with individual accounts for key team members (such as salespeople). You can integrate your appointment scheduling service with your own calendar.
If you're using a Google or Office 365 calendar, you can enable 2-way sync for you and your team in the Setmore web and mobile apps.
How to schedule appointments yourself
You can book appointments through your existing calendar app (ie Google Calendar, Microsoft 365). You can also schedule appointments using the Setmore web and mobile app.
To book your first appointment:
Go to your AnswerConnect app
Go to Settings
scroll down to my Account in the left sidebar and choose Scheduling.
Click Launch App
From your Setmore calendar, choose the time and date you want to book the appointment.
Choose the provider (this is the person from your team who will take the appointment)
Select which service they will provide in this appointment
Confirm the date and time
Choose whether the appointment will repeat on future dates/times.
Click on Customer. You can either add an existing customer from your contact list, or add a new customer by clicking + New Customer.
Once you've confirmed the details, click Save Appointment.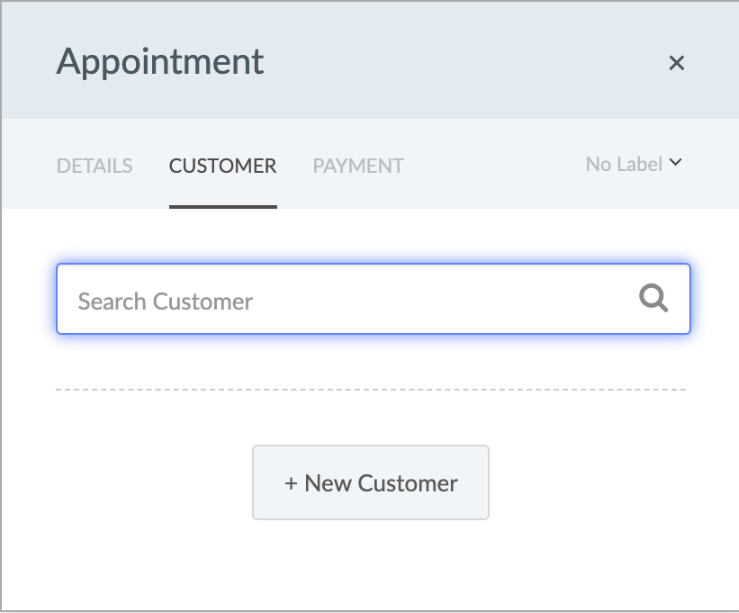 How to allow clients/leads to book appointments
You can share your booking page URL with leads and clients.
Go to your Setmore calendar
Go to Overview
Either download and share the QR code,
or
Copy the unique link under Here's your Booking Page URL
From this link, your leads and clients will be able to choose the department/specific employee they wish to book with and even self-schedule appointments with you. And with the two-way calendar sync, they'll only be able to book appointments at times you and your colleagues are available.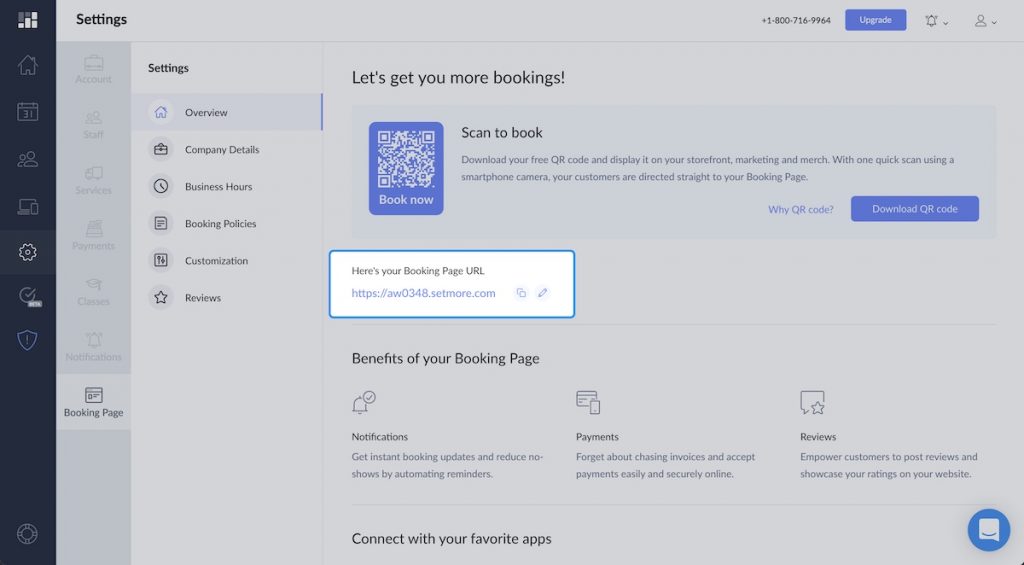 How to give colleagues access to your calendar
You can add colleagues as Staff to your Setmore account and adjust their level of access. Choose from Staff access or admin access.
How to set your availability for appointments
Availability of the appointments will be based on the working hours, breaks and time off you specified during your set-up process.
To update your business hours:
Open your AnswerConnect app
Go to Settings
Go to Account Details
Click Business Hours
Adjust your business hours
Click Save
To update your own personal working hours:
Select My Profile
Select Working Hours
Select Edit working hours
Choose which days of the week you're available and edit your start and end times.
To update the working hours of your team:
Add your team members to the app
Follow the steps detailed above for "Update your personal working hours" to add their own working hours.*
Note, your team must have admin level access to update their working hours.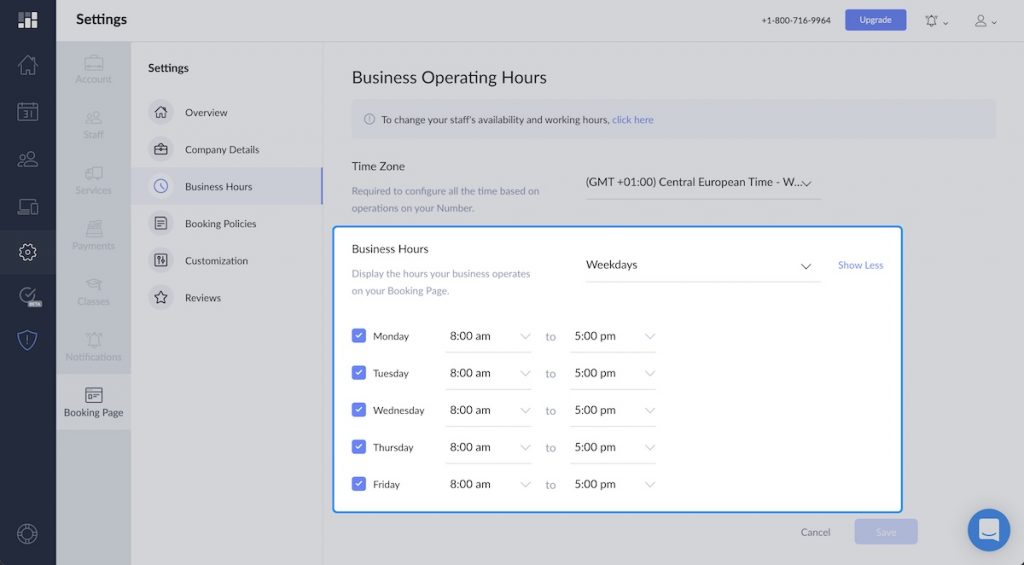 Sending SMS reminders
To send SMS reminder messages to clients:
Log in to Setmore from a web browser
Go to Settings > Notifications > Customer.
Note: if you don't see this option in your navigation menu, this could be because you have a staff login with an insufficient access level. Contact your account admin to activate the feature.
Under Appointment Reminders, check the box to toggle text reminders on or off.
Under Reminder Lead Time, use the drop-down menu to set the lead time in days, hours, and minutes.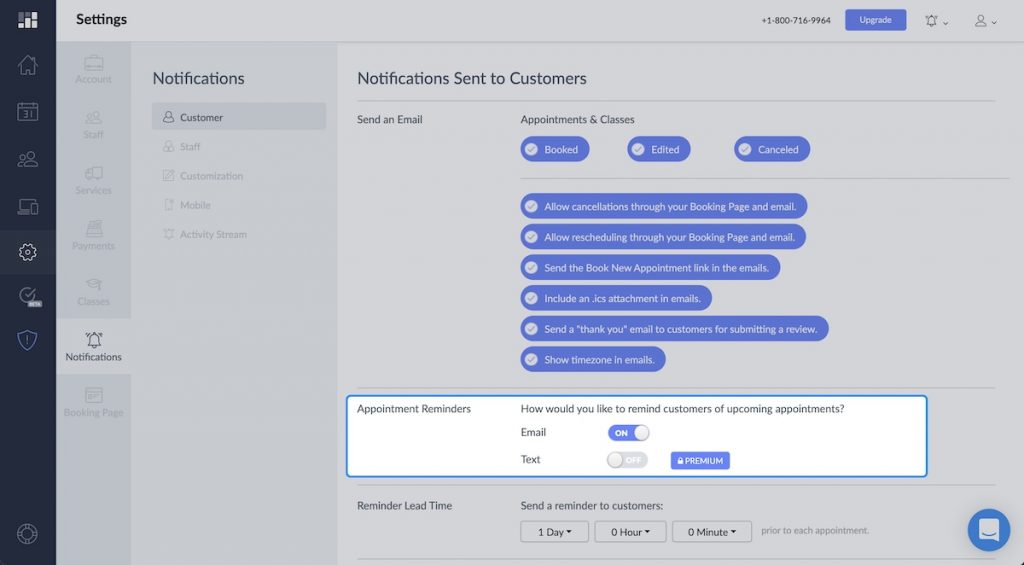 Check out the full guide to scheduling and sending SMS reminders here.
Note: SMS reminder messages are sent using the phone number provided by you upon sign-up unless otherwise specified. This number must be a mobile number.
Got any questions about your appointment scheduling service? get in touch with us at clientservices@answerconnect.co.uk or call us on 0800 802 1039.