You can count on us.
Percentage of calls answered in one to four rings:
Want to hear
how
we sound?
Share your company name and we'll
give you a unique freephone number.
Continue
please enter company name
Experience what your customers will hear. Call us now and we'll answer in your company name.
Instant notifications.
Stay connected instantly via in-app messages from receptionists.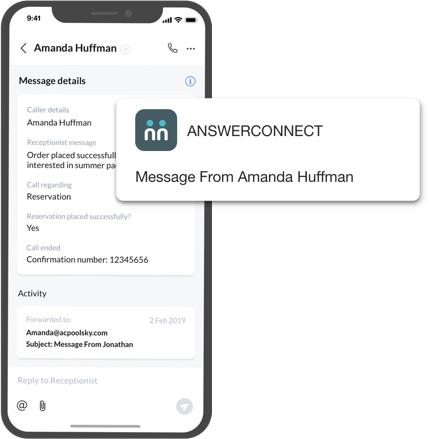 Live chat helps
convert your leads.
Your web visitors chat with real people, not bots. A personal touch makes all the difference.
Learn more >
9/10
people expect to use live chat to get help from companies online.1
Source: 1 Neil Patel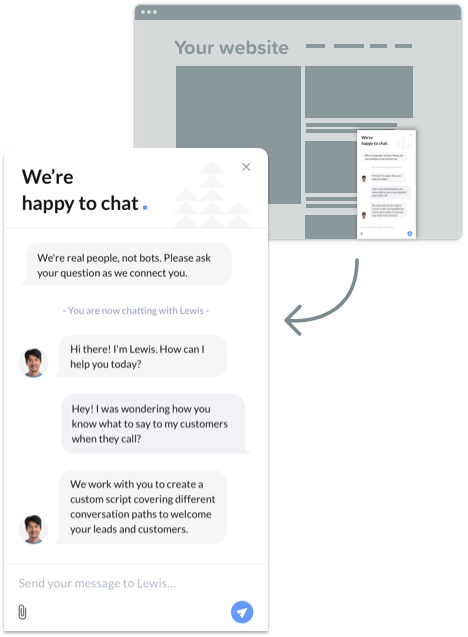 Real interactions,
real results.
80%

of callers will hang up when they reach a voicemail.1

74%

of people who have a bad phone experience would choose another business next time.2

61%

of mobile users call a business when they're ready to buy.2
Source: 1 CBS News, 2 Harvard Business Review.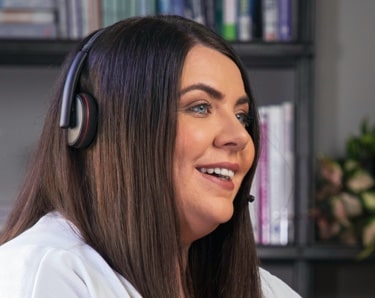 Why it works.
Capture every lead

Be there for your prospective customers. Anywhere, anytime.

No voicemail, no bots

Win more business with real people, not automated voices.

Manage my calls

Busy? Have an important meeting? We've got you covered.

Know my callers

We recognise your returning callers for a personalised experience.

Unique to you

No two businesses are the same. Your call flow is tailor-made for you.

Update anytime

Your call flow is flexible, so you're always in control.
Make a great impression.
68% of consumers would pay more for products or services from a company with good customer service.1
Source: 1 Forbes.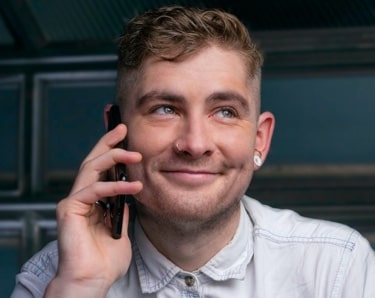 Our people are
your people.
Our team works across the UK. We focus on finding you the best people, not the closest.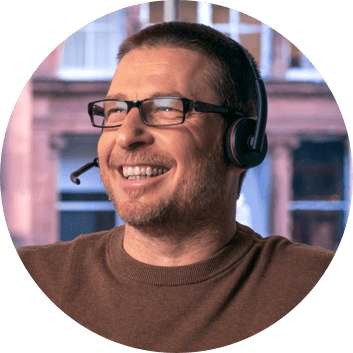 Happy people,
happy customers.
Average employee tenure is three years and growing. By retaining great people, we help you retain your customers.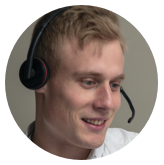 Integrate with ease.
We plug in seamlessly with the tools you use every day.
View more >
Small business,
big reach.
Most of our clients are small
businesses. You work hard for
your leads - don't miss out when
they're ready to talk.
52% of UK private sector turnover comes from small businesses.1
Source: 1 The Federation of Small Businesses.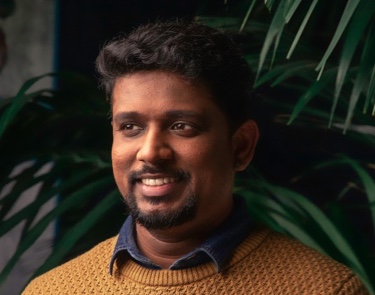 Join other happy customers.
Call today to discover why other businesses have chosen us.
"

I cannot recommend AnswerConnect enough.

"After missing so many calls, I needed to find a way of capturing and utilising client information. Professional, competent and, best of all, great value for money, with the added bonus of 24/7 service."
Paul Young
CPC Direct Training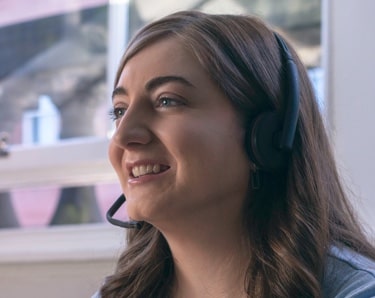 Great people
help you grow
your business.
Don't let a missed call become
a missed opportunity.
These are core values of AnswerConnect. Here is a book we think you might like.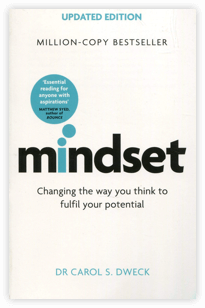 AnswerConnect customers have helped us plant