Why it works.
Always available

Never miss an opportunity
when clients call.

Capture every lead

Be there for your prospective customers. Anywhere, anytime.

No voicemail, no bots

Win more business with real people, not automated voices.

Never closed for business

Work from home, your office,
or Anywhere.

Know your callers

We recognise your returning callers
for a personalised experience.

Manage your calls

Busy? Have an important meeting? We've got you covered.
What a professional property
answering service can do for you
.
24/7 professional support tailored for home buyers,
home sellers, tenants and landlords.
---
24/7 real estate live
call answering

Give callers exceptional support with a
team of virtual receptionists answering every call.

Property maintenance management call service

Assign call-flows to specific maintenance teams to resolve tenant repair requests quickly and efficiently.

Lead capture and qualification

Your calls are covered 24/7, allowing your team to focus on converting the best leads to property sales and agreements.

Appointment booking

Your virtual receptionists can schedule viewings and book consultations directly through your own calendar.

Unparalleled on-site support

Guide prospects, landlords and tenants through your website in real-time via an easy to integrate chat widget.

Industry-specific expertise

Provide professional support via a team of answering agents specialised in the real estate and property industry.
Join AnswerConnect to enjoy:
AnswerConnect App

See every new engagement.

See every new message, track usage and follow up on the latest opportunities Anywhere.

AnswerConnect Portal

Manage your account.

Manage your account, customise your scripts and update your plans, anytime.

Video Calling

Connect with colleagues and clients.

Connect with colleagues and clients via secure video-calls to manage projects and offer face to face demos.

Live Chat Answering

Convert passive visitors to active customers.

Convert passive visitors to active customers and capture leads directly through your website with an easy to integrate live chat widget.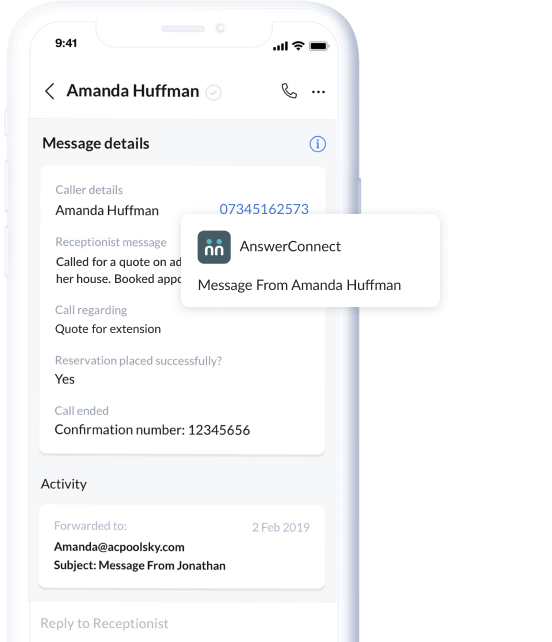 Real interactions,
real results.
84%

of people want to speak to a real person over a bot when they contact their landlord/letting agency.

31%

of renters who tried to contact a letting agent during an out-of-hours emergency didn't receive an answer at the time.

30%

of renters would choose another landlord/letting agency if they had a negative first experience.
Source: OnePoll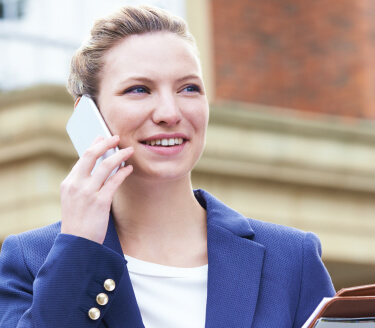 You're in good company
.

"

The bespoke answering service is really professional and I would highly recommend this company if you need some trustworthy services to make sure your calls are in the right hands and being handled professionally and suited to your business.

"

Very useful service - easy to communicate with and set up the scripts for call handling. They form a very useful part of the front-end of our business and definitely help us convert more enquiries into clients.
The voice (and ears) of your business.
Our professional customer experience experts are an extension of your property management business.
They use your script, speak your language and understand your business goals, to give callers consistently on-brand service.
1

.

Let's talk.

Tell us about your business, your customers and your goals. We work with you to create call flows to give your clients the best experience.

2

.

Start forwarding your calls.

Our friendly receptionists engage and interact with your leads and customers, 24/7.

3

.

Stay up-to-date Anywhere.

See details of every customer interaction via our app, SMS, or email.
FAQs.
How will you get to know my real estate business?

We do what we do best - listen! During the onboarding process, we discuss your business model, business objectives and your customers. Best of all, with the Client Web Access Portal, you can update your virtual answering service settings at any time.

Will I be tied into a contract?

No. Your contract is set on a monthly rolling basis and you can opt-out at any time.

How can I keep track of the calls and messages which are taken?

You can track all calls through the AnswerConnect mobile and Desktop app. You can review recordings of conversations, leave notes for your virtual receptionists and follow-up with tenants or prospective buyers directly through the app.

How much does your property answering service cost?

We offer a range of scalable plans at different prices according to usage. Click here to view our plans and pricing.

Do you provide after-hours real estate answering services?

Yes. We offer after-hours answering services for real estate and property management companies. We also offer holidays and overflow call answering, for when your team are inundated with calls. You can choose when we answer based on your requirements.

How long does your service take to set up?

Setup varies according to requirements but your account is usually set up in the space of a few days. From finding the right plan for your business to your account going live, we keep you in the loop at all times.

How will you ensure my data is protected?

Our trained professional real estate live answering team ensures your data is completely protected. With secure access to your dedicated Dashboard, access is restricted to just you and your team.
Can't find the answer to your question? Call us now: 0800 802 1069 or email us at hello@answerconnect.co.uk
Hear how we sound
.

To hear how we could answer your calls, enter your
details and call us for free.
To hear how we could answer your calls, call us for
free on the number below.
To hear how we could answer your calls, enter your
company name and call us for free.
By submitting this form you agree to our privacy policy.
We may email, text or call you to follow up. You can opt-out any time.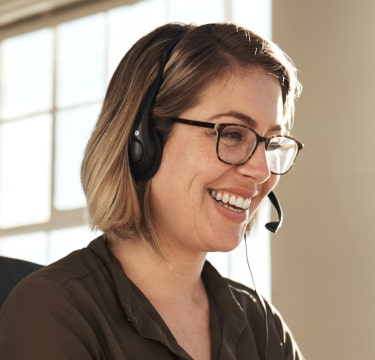 These are core values of AnswerConnect. Here is a book we think you might like.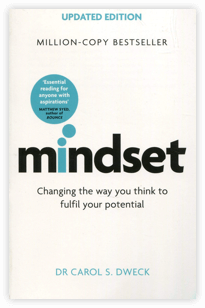 AnswerConnect customers have helped us plant